Atom Motion Reactive LED Light Gloves (Frosted Bulb)
Regular price
$ 159.95 USD
Regular price
Sale price
$ 159.95 USD
Unit price
per
Sale
Sold out
Share
Unfortunately do to the chip shortage, we haven't been able to make the Atoms for a long time now. It is impossible for us to get the parts. And we don't know when things will get better.

Once again the very nature of Gloving and light shows has been changed. Encompassing everything we've been working towards at Futuristic Lights, the Atom LED Light Gloves are where we bring everything together. We started off Futuristic Lights by revolutionizing the Gloving industry with the world's first motion-reactive gloves, the Kinetic. These lights introduced the art back into the world of Gloving with the amazing responsiveness of Kinetic motion. We followed this incredible light glove with the fastest programmable glove set around, the Aether. With the new Chip to Chip communication, you can now transfer complete sets or individual modes in a matter of seconds! Both of these incredible features will be packed into every single Atom LED Glove Set. These light up rave gloves are like nothing you've ever seen before. What's even more incredible, each light is now reduced to a 40% smaller nano size. Making the Atom LED glove set the world's most form fitting light gloves. For a second, glance down at the nail on your fingers. Now imagine a light that size sitting comfortably on top. The special nano size of the Atom will have you questioning if they're still even on your fingertips! 
Don't forget to pickup some extra CR1225 batteries here. 
Atom Features And Highlights:
Revolutionary Chip to Chip Communication 2.0 (Wireless Technology) 
True Sandbox Mode
Motion Reactive 3-Stage Sandbox Switch
40% Smaller Microlights
"Flick" Color Programming, Never Accidentally Skip A Color Again!
12 Flashing Patterns
Features The World's Best Motion Reactive Technology
6 Motion-Reactive Capable Modes
7 Available Slots To Program
38 Colors + Blank
Battery Light Lock
Improved Button Click (Best Button Click Feel Ever!)
Also, We Back Our Lights With A LIFETIME WARRANTY!
Here are the flashing patterns that come with the atom. Each of these flashing patterns can be used with the Atoms motion-reactive modes!
For a complete overview of the Atom LED Light Gloves, please refer to the PDF Manual.  
Atom LED Light Glove Package Includes:
10 Atom Microlights
20 CR1225 Batteries 
10 Diffusers 
10 FL Atom Casings 
1 Pair Of FL Premium Magic Stretch Gloves
Manual
The Atoms use CR1225 batteries.
Premium Magic Stretch Glove Sizing Chart
First Official Look | Atom Motion Reactive C2C LED Glove Set
Customer Reviews
Best Gloveset you can get your hands on
Although these gloves took nearly a year to get into my hands from purchase to today, I have decided to rate these a five star. You may need patience when setting light combos, however the motion reaction is perfection. Honestly I wouldn't reccomend any other glove. Fits nice and snug. The gloves are more comfortable and air passes through them much easier to prevent that hand sweat then competitors products. It's hard to find a dislike with these, light, comfortable, affordable, and worth every single penny.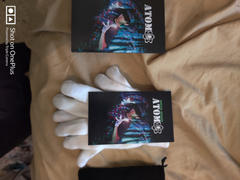 06/08/2020
Jared W.

United States
Top Quality
Theres a lot to like about these gloves. The lights are quite small and dont feel bulky at all. The lights are bright and the colors are wonderful Very good motion sensing adds a completely new element to a lightshow Very in depth programming that is relatively easy to learn once you actually get your hands on it The chip 2 chip transfer is insanely useful
05/19/2020
Isaihah ..

United States
BEYOND SATISFIED
Came faster than I thought especially during this covid stuff. They are really nice and I couldn't have picked a better first pair of gloves. Can't wait to trade with people now. Thank you FL!!! BEST OF LOVE AND LIFE❤
03/04/2020
Steven Y.

United States
Oooops
I washed them in the washer
02/07/2020
Odalis G.

United States
Best Gloves Ever
I had already had the Ions and decided to buy these ones. Lord am I glad that I bought these. They are so different, no problems at all. Futuristic lights has THE BEST gloves in the market. If you're scared to buy them, don't be. They are so worth it.